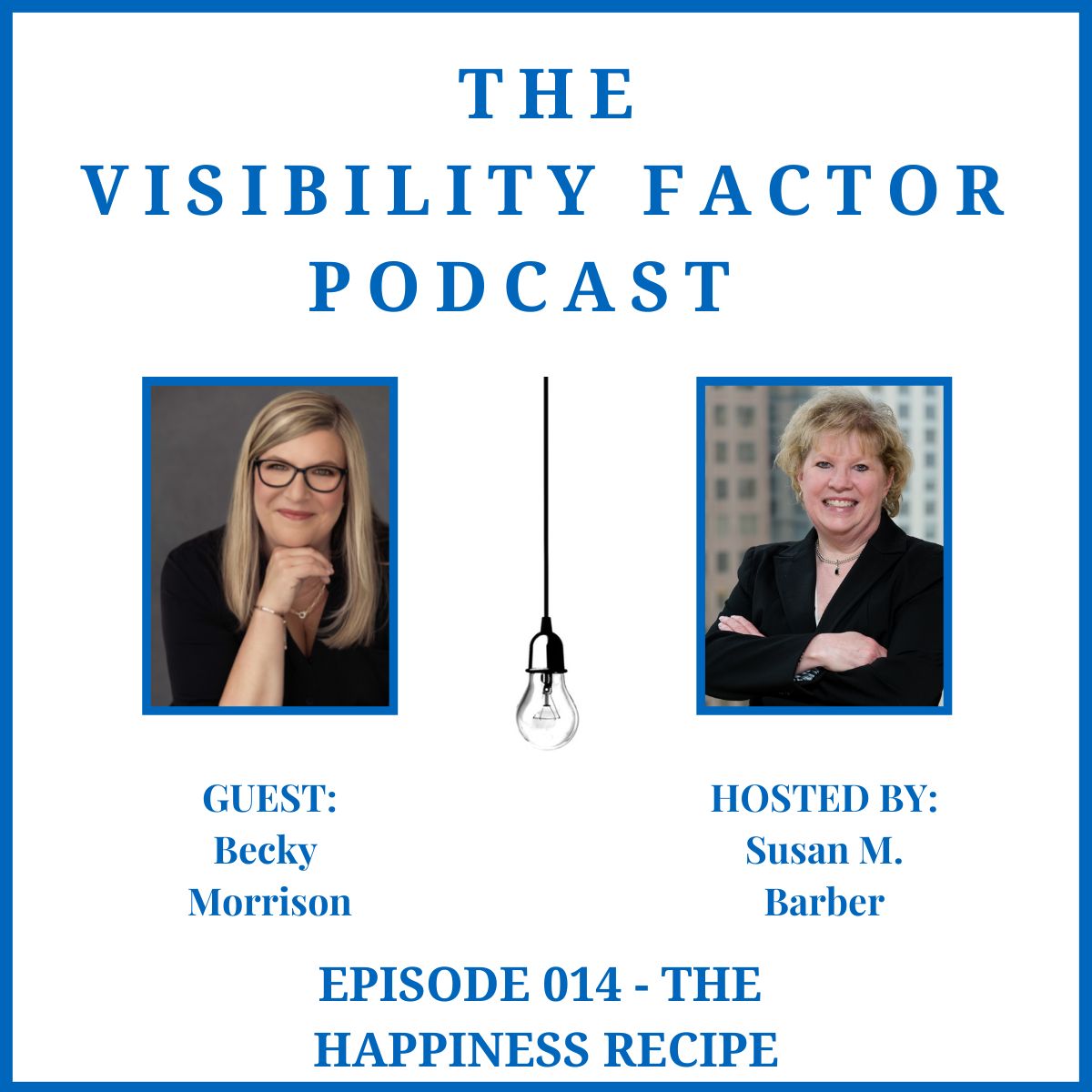 14: The Happiness Recipe (with Becky Morrison)
Rebecca Morrison was a happily married mom and lawyer with a two-decade career in Big Law and Finance, she felt like something was missing. That feeling led her on a quest to figure out whether it was possible to be both successful and happy. Now a Happiness Coach and Author of The Happiness Recipe: A Powerful Guide Living What matters, Rebecca helps successful but unsatisfied high achievers find their happiness recipe so they can live happier, lead happier and build happy businesses. Rebecca is a graduate of Wellesley College and Georgetown Law. She is also a UC Berkeley Executive Coaching Institute Certified Executive Coach.
In this episode we discussed:
We started off discussing her book called The Happiness Recipe. I was curious how she came up with the title, what it was like to write it and what she hoped it would do for readers.
She shared a pivotal moment that she had as she was giving her daughter a bath that changed how she thought about her life and her career.
We talked about the term Priority-Aligned Living that she has in the book and what it means to her and how readers should think about it.
She organized the book around three parts that can be referred to over and over throughout the transitions of life and career. Her explanations of those three parts were very impactful.  
We also talked about what it is like to be a working mother with a high pressure job and the transition she went through from being a lawyer to becoming an entrepreneur and coach.
Have you found that more people have come to you during and after the pandemic to find ways to deal with the stress and anxiety?
We talked about the impactful work that she is doing with law firms and her individual clients to help them find balance.
Becky says that visibility is being willing to share what is important to you at this time in your life.
Some of the books that Becky recommended:
Here's a link to Becky's Book, as well as her website to connect with her!
THE VISIBILITY FACTOR WITH SUSAN M. BARBER
Check out my website and the resources for The Visibility Factor book. As always, I encourage you to reach out! You can email me at hello@susanmbarber.com.
You can also find me on social media everywhere – Facebook, LinkedIn, and of course on The Visibility Factor Podcast!
I look forward to connecting with you! If you liked The Visibility Factor, I would be so grateful if you could subscribe and rate it where you listen to podcasts! It helps the podcast get in front of more people who can learn how to be visible too!
Thank you to the team at Sheep Jam Productions for the amazing support of The Visibility Factor Podcast!