We are a brand-new podcasting network, founded by people who have decades of combined experience in audio production. We absolutely love podcasts!

We especially love podcasts with engaging content that feature inspiring people and diverse topics, presented with high production value. (Who wouldn't?)

There are a lot of podcasts out there competing for your attention. Like a million or two, literally! Our goal at qodpod podcast network is to give you a variety of curated content, defined not only by category, but also by average episode length. Because we understand your time is valuable. We also have bios from all of our podcast hosts, so you can get to know them and why they're so great at what they do!

From all of us at qodpod: hello, welcome, and thank you for joining us! We hope you'll enjoy exploring the podcasts here. Stay tuned because more podcasts are being added every day!
As a former nationally syndicated radio producer & host, Susie has had a passion for audio production throughout her career. Holding degrees in both Communications and Theatre, Susie has produced, hosted and/or voiced countless radio segments, shows, commercials and sponsorships. Also a seasoned entrepreneur and marketer, Susie has spearheaded successful branding campaigns, product designs & launches, as well as PR & marketing campaigns. An award-winning speaker, Susie employs creative and humorous storytelling techniques gleaned from improv training at Improv Olympic Chicago and years of performing on stage.
SarahAnn holds a BBA in Marketing and an MBA in Strategic Management and Information Technology. During her university studies, she worked for the North Texas region's premiere recording studio as the Assistant to the Manager. As the Director of Operations for qodpod, SarahAnn brings international experience and systems knowledge to the team, having worked in both Asia and Europe and in international trade for a Fortune 100 company. Bilingual in English and German, SarahAnn also has considerable experience in theatrical stage production with a specialty in opera and musical theater.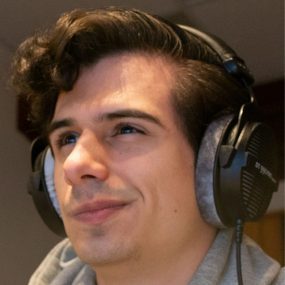 Ian Devitt graduated from Columbia College Chicago in 2020 with a degree in Audio Design and Production. Ian has planted his flag in the podcasting world and loves using his skills to elevate people's stories to the next level. When he's not editing, Ian enjoys camping and backpacking throughout the United States — he's had a few close encounters with bears!