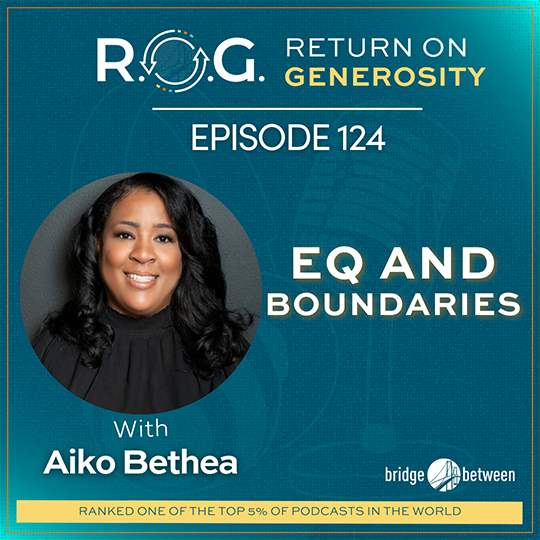 124. Aiko Bethea – Emotional Intelligence and Boundaries
"There's an irrational belief we have in this society, which is about, I should know everything. I should be an expert, I should know the answers…We have our self worth hung up on thinking that we should know everything…" – Aiko Bethea
Guest Bio:
Aiko Bethea is a leader, builder and connector who has successfully navigated leadership roles in government, philanthropic, nonprofit and private sectors. In each sector, she created inaugural roles to meet growing organizational needs. After leading a legal team at the city of Atlanta under the leadership of Stacey Abrams, Aiko served as director of compliance for the city of Atlanta and deputy director of a compliance department at the Bill and Melinda Gates Foundation. Most recently, she was the head of diversity and inclusion for the Fred Hutch Cancer Research Center.
 
The founder of RARE Coaching & Consulting, Aiko guides leaders and organizations to remove barriers to inclusion. She serves as an executive coach to leaders and teams of Fortune 100 companies and global nonprofit organizations. Because of her work, she has been recognized by Forbes as one of the top seven anti-racism educators for companies and by Culture Amp as a DEI influencer to follow. Aiko is also a senior equity consultant for the Brené Brown Education and Research Group where she oversees development and implementation of DEI and belonging strategy. Aiko's writing on leadership and belonging has been published in Harvard Business Review, Forbes and The New York Times bestselling anthology, You Are Your Best Thing.
 
Aiko holds a law degree from UNC-Chapel Hill and a bachelor's degree from Smith College. On most days, Aiko enjoys spending time with her two sons. She is a member of the Links, Inc. Dogwood City Chapter, Alpha Kappa Alpha Sorority, Inc, and Jack and Jill of America.
R.O.G. Takeaway Tips:
Language is a big part of connecting with the community.
Having empathy doesn't mean you don't hold people accountable. You can hold people accountable and do it with generosity and empathy.
Be curious and ask questions instead of making assumptions.
It's okay not to know everything. If you have a learner mindset, you have permission to say I don't know and fail. Why We Need More Learners Instead of Knowers in the Workplace.
Question what you think you know.
How Social Accountability Creates Culture Change.
Emotional intelligence in the workplace.
Create an environment where others feel heard.
Hold each other accountable with generosity and empathy.
Checking your default and self-interrogate to understand why you do things and what aligns with your aspirational self.
To figure out who you want to be, start with who you don't wanna be.
Resources:
Coming Next:
Episode 125, Building Bridges Coaching Tips for Generous Leaders with Shannon Cassidy.
Credits:
Aiko Bethea, Sheep Jam Productions, Host Shannon Cassidy, Bridge Between, Inc.