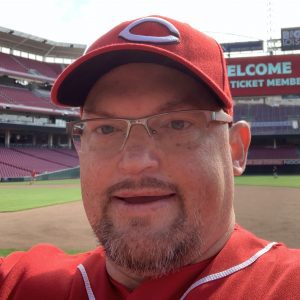 Lifelong Reds fan with over 27 years of broadcasting experience

Scott Evans is a super Reds fan that has followed the team basically since he was born. He brings a unique look to Reds baseball. As a season ticket holder, he has met many in the Reds organization, and has even been fortunate enough to chat with Reds owner Bob Castellini, GM Nick Krall and players such as Tucker Barnhart.

Scott is a 27+ year broadcasting professional and is currently heard on weekends on B-105 in Cincinnati, as well as on a syndicated weekend show called The Interactive Party. He is the proud father of 3-year-old twin boys.