Longtime Radio host Jim Salmon and Radio Producer Matt Wilson team up to talk grilling, BBQ and Craft Beer.
If episodes on this page fail to load, please click here to hear all the "Grill This!" episodes: https://grill-this.sounder.fm/
---
All Episodes
On this Episode, Jim and Matt sample a craft beer from Thin Man out of Buffalo called "Minkey Boodle" and talk air fryers. Also, Jim goes into the mail...
Read More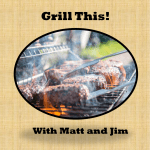 The debut episode of Grill This! Matt and Jim sample brisket cooked on Jim's brand new pellet grill, and they sample a stout beer from the Finger Lakes as...
Read More